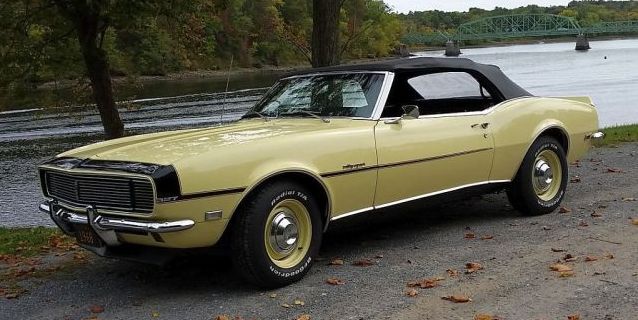 Y2 = Butternut Yellow (Y) with Black top (2)
Welcome to the internet's only site dedicated to the first-generation Butternut Yellow Camaro. Why a site for Butternut Yellow Camaro's? Well, for no other reason than because I have one. I only wanted to make a site to show my car, but got carried away. Now the site contains a registry of Butternut Yellow Camaro's including a searchable database. I even got distracted one day and created the only searchable database for loose Camaro trim tags. I know, I need a life...
Butternut Yellow was available as a color choice for the Camaro in 1967, 1968 and early 1969 before it was replaced by the much brighter Daytona Yellow. Although Butternut Yellow cars seem scarce today, it was actually the second most popular color choice for 1967 Camaro's with 14% of that years production. In 1968 it was the fifth most popular color at 8%, but by 1969 it had dropped to 1% of production prompting Butternut Yellow to be replaced with Daytona Yellow. (source Camaro Research Group)
Most Butternut Yellow cars came with a black interior, although Gold and White were also popular choices. Some 69 cars came with a yellow Houndstooth interior. There was also at least one 68 car that had a Turquoise interior. If the car was a convertible or had a vinyl top, the color choice for the top was either black or white.
Butternut Yellow was also used on other Chevrolet models such as the Chevelle, Corvette, Impala and Nova. It was also available on other GM models under various names. For Oldsmobile it was called Saffron. Over at Pontiac it was known as Mayfair Maize. And on Buicks it was referred to as Cameo Cream.
If you own a Butternut Yellow Camaro, I'd love to hear from you!