This is the first Camaro I owned. I bought this in 1977 when I was in High School for the grand sum of $950. It was a base coupe with a 210hp 327. It had a TH350 transmission, but I'm guessing it was originally a Powerglide. The only options were Power Steering and Air Conditioning. Although not particularly fast, it was a very reliable and smooth running car. I had it painted and put the SS wheels on, but the body was never in really good shape. There was bondo around the rear wheel lips and it had the typical Camaro problems; rusty shock towers, rockers, floors, etc. I had big plans for the car, but lost my storage in 1985. I decided to sell it rather than park it outside my apartment, as no good would have come of that. It's just as well because I really wanted a convertible and a 4-speed, and cutting the roof off this one didn't seem like a very good idea...
The VIN of this Camaro is 124378N311051. If you know anything about this car please contact me, I wouldn't mind trying to get re-united with it. Email me at kevin(at)y2camaro(dot)com.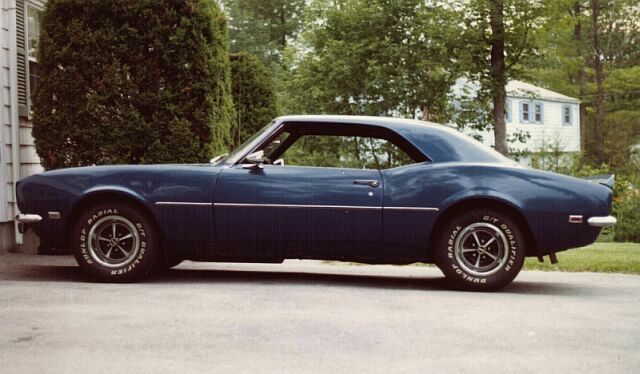 This picture was probably taken around 1982.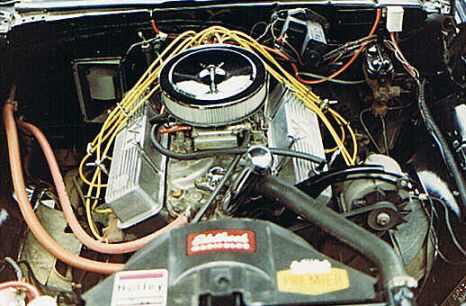 Forget the 'Caution Fan' decal, get a load of these! AC box had to go to make room for headers. Check out the extended alternator bracket needed to clear valve covers.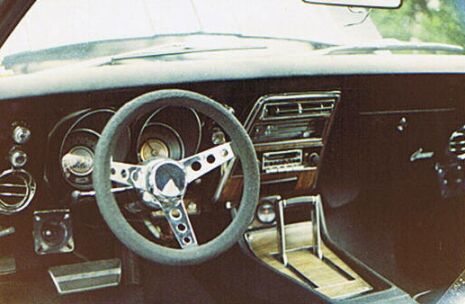 Console was from an early 2nd generation Camaro. It fit nice and looked like it belonged. Check out the tweeters, early ghetto.
This is the car that started it all, the 1968 Firebird I bought in the Winter of 1977. It had a 350 with a 4-speed. The body was a mess, the interior was torn up, it was puke green with a puke green interior, but it was my first car and I loved it. The plan was to rebuild it and make it a showpiece inside and out. I was going to paint it black, dye the interior black, and load the motor with chrome goodies. Wheels would be Cragar S/S. There would be a custom 8-track stereo system... Fast forward to 3 weeks later, a cold snowy February night. Wide (and bald) tires on the back combined with an itchy foot were a recipe for disaster. On a quiet stretch of road the front of the Firebird unexpectedly met the rear of a Mercury. In this battle Ford beat GM. It happened so fast I didn't have time hit the brakes or throw the clutch. The fan split the radiator, the linkage locked up, and my head split the windshield. The front of the Firebird was a bent and twisted mess, and sadly it would never see the road again. The rear bumper of the Mercury barely had a scratch. Life is not fair. I parted it out soon after to try to recoup some of my losses, keeping some miscellaneous emblems for sentimental reasons.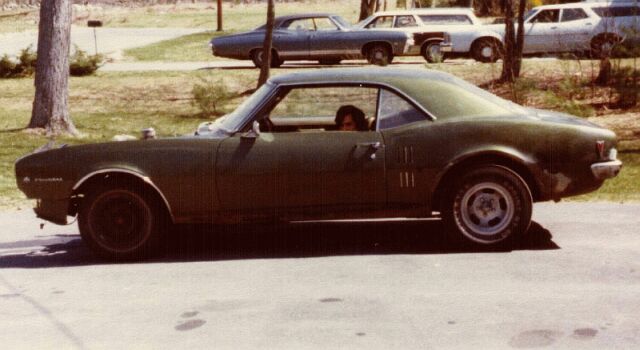 This picture was taken in the Spring of 1977. That's my friend Gary sitting on the floor.